LOSEtheLine for Service Providers
SSafety, comfort and convenience is what service providers of all types, from Gyms to Banks, strive towards as they service their clients. In today's climate, people require safer and convenient services but because of new restrictions, receiving those services in many cases require waiting in extremely long line ups. Service organizations have been struggling to find a solution to reduce line ups and service visitors in a safe and efficient way. LOSEtheLine is the solution that can help. Using the complete functionality of LOSEtheLine, service organizations can now provide multiple options for their visitors to receive the service in a convenient and safe manner. These include options for Walk-ups, Reservation/Appointments and Waitlists.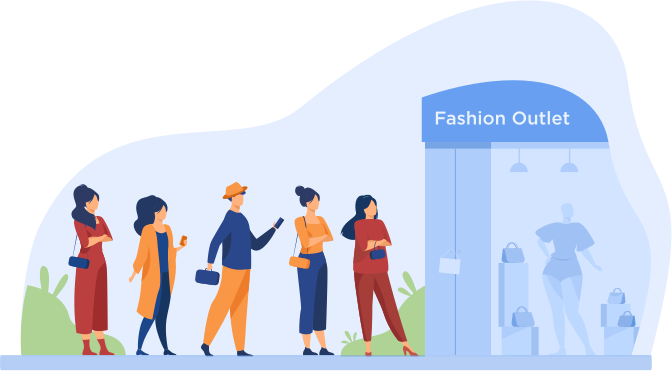 Walk-ups
Lose The Line eliminates the need for physical line ups. Managing visitors that require same day service can be chaotic. Visitors can wait hours in line and in some cases not even receive service after waiting so long. LOSEtheLine replaces the physical line. The Lose The Line app will instantly give visitors a place in the queue with an estimated wait time. As people get served, the position and wait times will immediately be updated so visitors know exactly how many people are in front of them and how much time they have until they need to return.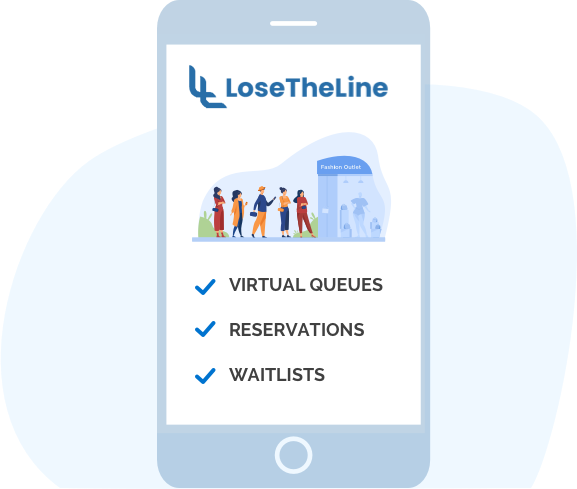 Benefits of LOSEtheLine
Visitors wait in the security and comfort of their own private space as they wait for their turn to be served.
Avoid waiting in inclement weather such as cold, rain or heat.
Can create high satisfaction levels among constituents due to the convenience of multiple options for being served.
No waiting in line means people do not have to take off more work than necessary and parents can better arrange for child care. Overall time management would be positively affected.
Vulnerable groups will be removed from harm's way
How does it work?
As guests arrive at the service location, within the permitted distance, they simply open the Lose The Line app or scan the QR code and put themselves immediately in the queue. All without interacting with anyone. After receiving their position and estimated wait time, they will continue to receive real-time position and estimated wait time updates and alerts on their mobile phone.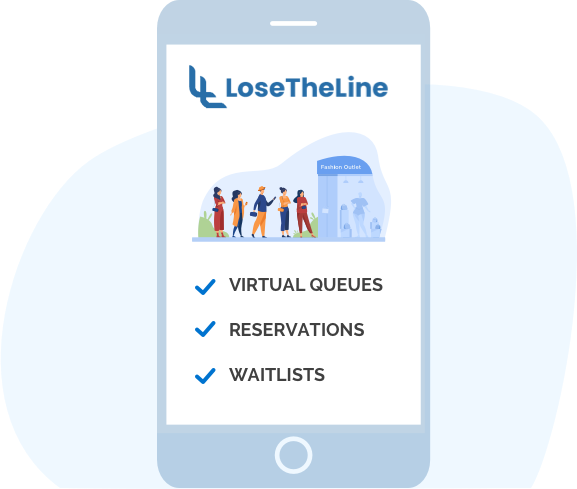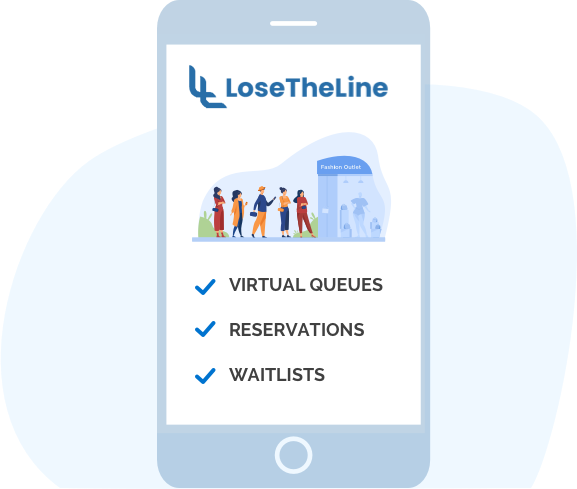 No App? No Problem.
Using the LOSEtheLine App will give customers the greatest benefit but if a customer doesn't have or cannot install the App then they can quickly register their name and cell phone number with an employee and get notifications by text
No Phone? No Problem.
Manually added to the queue either through self-serve terminal/tablet by host/hostess Receive a queue position and be called when your number is up
Reservations/Appointments
Another convenient and secure option in servicing guests is by reservation or appointment. This convenient and simple to administer self-serve function provides an added convenience when a visitor cannot simply show up at the service location and wait to be served. With the Reservation component, guests can conveniently book a reservation or appointment from the service organization's website or directly from the Lose The Line App
Features
Set up Multiple Sections
Configure Number of days in advance a visitor can make an reservation/appointment
Configure the Maximum number of Guests allowed per reservation/appointment
Restrict number of reservation/appointments allowed per time slot
Flexible reservation/appointment schedules-- Weekend,Weekday,Time of day,Holiday or Special day
Set time slots intervals: i.e. 5, 10, 15, 30, 60 mins
Restrict time slots for Special Groups, i.e. elderly, front line, disabilities, health conditions
Confirmation and reminder Emails and Text messages
Post reservation/appointment management: Reschedule, Cancel
Easy to integrate with your website. One line code.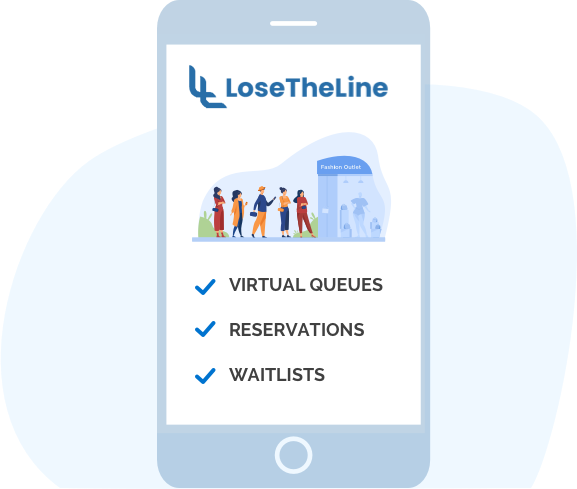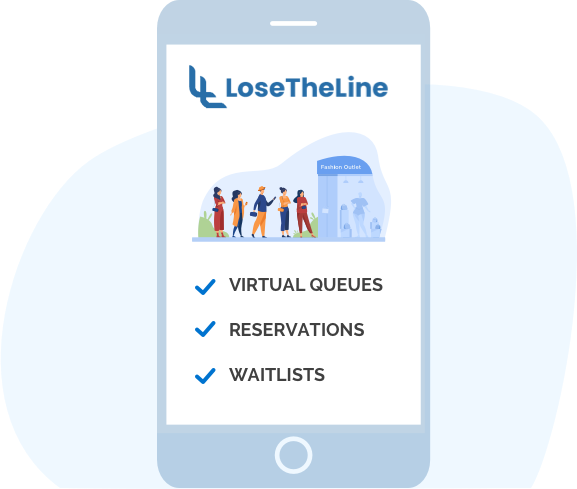 WaitLists
When a guest wants to book a reservation for a specific time spot but all reservations are taken, you don't have to turn away a potential customer. You can turn on the Waitlist function and users will be able to add themselves to the waitlist and either get bumped to a confirmed reservation if a cancellation occurs for that time slot, are allow them to be put into the queue at the specified time of their waitlist reservation and they will be put in the "front of the line" based on their waitlist order.
Features
Set Number of waitlist spots per reserved timeslot.
Waitlist spots are highlighted to be easily identified.
The number of parties already on the waitlist is displayed.
When a confirmed reservation is cancelled, first person on waitlist will be moved to a confirmed status.
Confirmation email sent when Waitlist reservation is bumped to confirmed.
Waitlist fills in spots otherwise wasted when a confirmed reservation has been cancelled.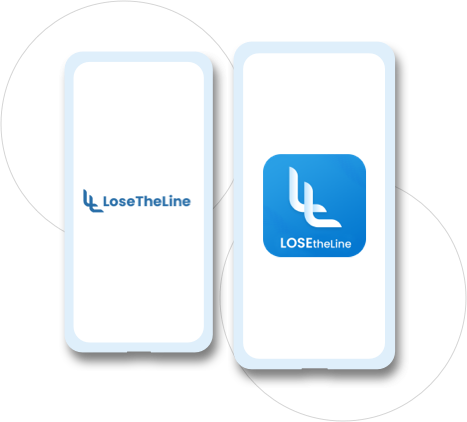 Download Our App Now
Our app can deliver services that convert online consumer research into in-store transactions. You can reduce customer service delays, reduce line sizes, and put productive employees in front of excited shoppers. By improving operations, staff can spend more time assisting customers and increasing satisfaction rates.